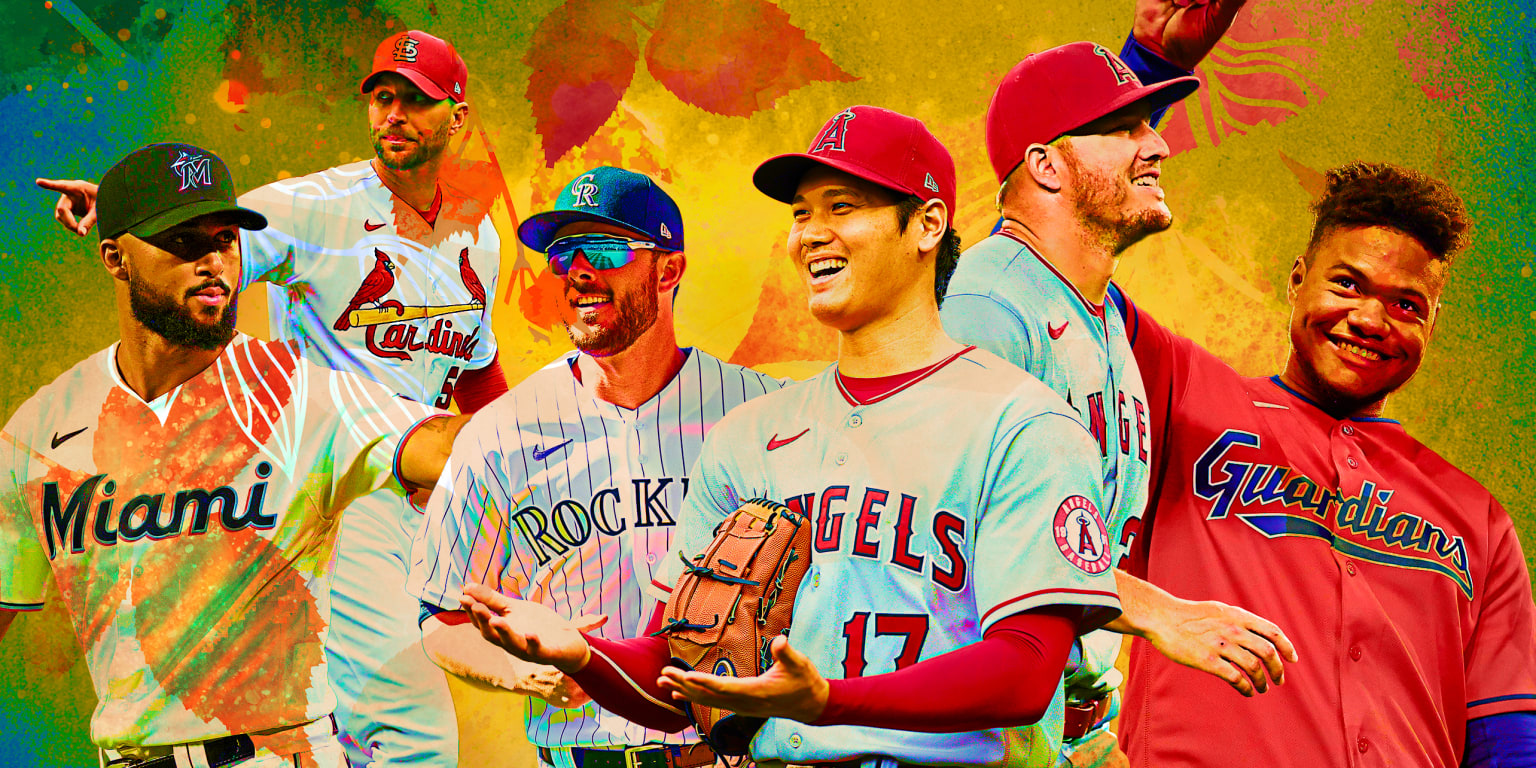 It's Thanksgiving! Sip sip, everyone. It's a bit of a sportswriter trope, dating all the way back to the turn of the century (no, not that one, previously turn of the century) when newspaper columnists all sat down and wrote about which sports figures should be grateful for that Thanksgiving. We're not immune to the charms of the Thanksgiving pillar trope. There is much to be thankful for!
So as we head into the Thanksgiving season, here's something for every team to be thankful for. Whether your team is a champion or a basement dweller, there is something to be thankful for.
Blue Jays: Vladdy Jr.
We've all been confused by Aaron Judge and Shohei Ohtani over the last couple of years, and for good reason, but let's not forget that the Blue Jays have a young superstar who almost won his own The 2021 MVP, has a smile that could light up the sky, has a swing that will send fireworks from the sky and, yes, is the son of a Hall of Famer who is also one of the funniest players in recent baseball. Don't take Vladimir Guerrero Jr. for granted, folks.
Orioles: The fun has just begun.
See, success is not a linear concept. You take a few steps forward and then one or two back. You break through, and then you struggle to take the next jump. Your young players don't quite manage exact as you wished. It's not all rainbows and sunshine from now on. But one thing is definitely true: Last year was proof that the worst is behind Orioles fans. This is a competitive team with a wealth of young talent that isn't going anywhere for a long time. You did it, Orioles. You deserve this.
Rays: The talent just always comes.
Remember when the rays were blown up for trade this player, or that player? Remember when the Rays were "too analytical" and "too smart for their own good?" Well, guess what? They made the playoffs again this year, for the fourth straight season. They have a lot of questions to answer this offseason. Guess what? They will probably answer them. They always do.
Red Sox: Fenway is immortal.
You always know things aren't great in Boston when the "be thankful" thing ends up being "Fenway," but seriously: There's nothing in the world like Fenway. You're going to see pictures of snow over Fenway this offseason and it's going to remind you what you're missing … and while 2022 was tough, we've learned that this team bounces back very quickly.
Yankees: They won 99 games last year and came one run away from their first World Series in 13 years.
Yankees fans were so frustrated at the end of the playoffs, and so nervous about Aaron Judge, that you need to say this out loud every now and then to remind them.
Guardians: That building can grow tall again.
Those of us who remember how full and wild Cleveland and the stadium were in their perpetually sold-out 90s incarnation took great delight in the wall of sound produced in their ALDS against the Yankees. Those fans are still there, and still good. Not every franchise can say that.
Royals: A transition that seems to lead in the right direction.
The Royals made a lot of changes this offseason, and while it's certainly up in the air how they'll pan out, it looks like they're pointing in the direction of a franchise that's taken a hard look at itself and is ready to try something new. When things don't work out, really, that's all a fan can ask for.
Tigers: The page has been turned.
Almost everything that could have gone wrong did go wrong for the Tigers last year. This team is going to go through some rough patches at times in 2023, sure, but there's reason to believe things will get better. Riley Greene's emergence in the second half is a good place to start.
Gemini: The team and the front office aren't quitting.
Many teams, especially those in a small market like Minnesota, pack their bags and start over when they lose 89 games, as the Twins did in 2021. That's not what the Twins did, even signing perhaps the best free agent on the market, in Carlos Correa (who opted out and is a free agent again). It didn't get them in the playoffs, and now that player is gone, but it speaks to motivation: This team won't sit still.
White Sox: There is still so much young talent here.
Last season was such a disappointment that you can almost forget that the White Sox, in addition to their solid rotation, have so many excellent hitters under 30: Tim Anderson (29), Yoán Moncada (27), Luis Robert (25), Eloy Jiménez (26), Andrew Vaughn (24). There isn't a team in baseball that doesn't want that.
Angels: Mike Trout and Shohei Ohtani are still here.
Look, it got pretty rough for a while last year. But every fan of every other team in baseball gets excited when they see the Angels come to town because it means they get to see these two play. And Angels fans get to see them every night!
Astros: They just won the World Series.
No need to complicate this one.
Athletics: There are some pieces that could be part of the next good A team.
Yes, it's been a rough couple of years, but: Watching Shea Langeliers develop into a potential All-Star should be fun. Cristian Pache can come. Yankees fans could rue the day they included Ken Waldichuk in the Frankie Montas deal.
Mariners: They made the playoffs!
After 21 years of the season's drought, they did it. They even got out of a round! And the best part: There is no happiness. This is just beginning.
Rangers: More and more good things are coming.
One might have argued that signing Corey Seager and Marcus Semien was a little ambitious last year, but there are far worse things you can say about your team than "they're ambitious."
Braves: So much young talent. So much!
Remember, you would have considered the Braves to be stacked with young talent for they had the top two vote getters in the NL Rookie of the Year voting this year. How many more of these guys are there?
Marlins: Your first Cy Young winner!
Sandy Alcantara is now the first Marlins pitcher with a Cy Young trophy on his shelf. And it certainly wouldn't surprise anyone if the 27-year-old added another one at some point.
Mets: The vibes are back.
The Mets didn't quite finish the season the way they hoped, and the way many (myself included) thought they would. But the LOLMets days are long behind them. This team is smart, stacked with resources and very dedicated to winning. They had the best record in New York City last year. It may stay that way for a while.
Nationals: The Padres trade package was super nice.
Yes, it's sad to see Juan Soto gone. But CJ Abrams and Robert Hassell III are going to be important parts of this team for years to come.
Phillies: They went to the World Series!
What an incredible race it was. You didn't imagine it. It really happened.
Brewers: There are so many pitchers here.
You've heard the same Corbin Burnes rumors that the rest of us have. If he doesn't get traded, this staff is stacked. But if he does… this staff is still stacked! Brandon Woodruff and Freddy Peralta are the rotation mainstays, and Devin Williams anchors a bullpen that was ultimately a pretty solid trade after Josh Hader. Thanks to their pitching, the Brewers are going nowhere.
Cardinals: After one of the biggest byes in recent baseball memory, the Cardinals get to do it again.
Albert Pujols and Yadier Molina went out in brilliant fashion. Now Adam Wainwright gets to do the same. Hopefully in a later playoff round this time.
Cubs: They stopped allowing runs.
Perhaps the Cubs will be active in the free agent market, but even if they aren't, there are reasons to be excited. Thanks to the likes of Marcus Stroman and Adrian Sampson, they had a 3.30 team ERA after the All-Star break, which ranked fifth in the Majors. Additionally, there is a group of prospects (led by outfielder Pete Crow-Armstrong) that will be arriving very soon. With that talent and a chance to add via free agency, this slump shouldn't last forever. It shouldn't even last long.
Red: Joey Votto is a treasure.
You do not need Social Media knowing how amazing Votto is. But you know, it doesn't hurt.
D-backs: Corbin Carroll is your signature star.
They haven't really had one since trading away Paul Goldschmidt, and Carroll appears to be one.
Dodgers: They're Dodgers!
The postseason was a bummer…again. But every team in baseball would trade places with the Dodgers in one second.
Giants: A smart front office is about to make some noise.
You know how smart they were two years ago when they found talent in the most unlikely places? Now they feel they have something to prove.
Padres: They beat the Dodgers!
Sure, there are three MVP candidates on this team next year. But it's OK to enjoy that Dodgers NLDS win, you all earned it.
Rockies: Coors is going to be a beautiful place to watch Kris Bryant hit 40 homers.
Amazingly, Bryant didn't hit a single homer at Coors Field during his injury-shortened 2022 campaign. But they will. In heaps. Soon.